Copyright 2002-2020 © All rights are reserved on our product designs.
Ishihara-Johnson Setup for Dodge 2.4 Dyno Tested
September 12th, 2005
Ed Peters, retired Chrysler failure analysis engineer, active racer and owner of Magnum Force Engineering, performed back to back dyno tests today on the Ishihara-Johnson standard steel combination scraper, dual-windage tray and baffle setup for the 2.4 Dodge engine (see pictures below). Magnum Force Engineering has a state of the art environmentally controlled dyno room where, among other parameters, ambient air temperature of 71 degrees Fahrenheit was held to within +/- .5 degrees. Experimental conditions in the dyno room and for the engine were normalized for both back to back pulls.
The tests were run on a normally aspirated 2.4 liter P.T. Cruiser engine with a modified engine management system allowing it to exceed the normal factory redline. The balance shafts in this engine were removed and, notably, it was equipped with the factory oil cooler for the SRT4 and P.T. Cruiser Turbo. The engine was equipped with a 195 degree F thermostat. Five quarts of fresh Mobil 1 10W-40 synthetic oil were used during each pull.
Prior to both pulls, the engine oil pan temperature (oil temperature in the reservoir) and coolant temperatures were allowed to stabilize. At each rpm increment in the tables below the temperatures were allowed to again stabilize in order to give an accurate reflection of the steady state operating conditions in the engine at that speed.
At peak rpms, use of the windage tray setup accompanied a 24 degree Fahrenheit drop in oil temperature, an 11 degree drop in coolant temperature and a 7 hp and 13 ftlb boost in power.
Ed Peters remarked that "this setup is the most significant bolt-on change for oil and windage control that he has witnessed since 1986."
In 1986, while at Chrysler, Ed performed joint research with Mobil Oil on windage losses in the 2.2 Shelby Turbo engine. He developed a performance oil pan that regained 9 hp at 6000 rpm when using Mobil 1 oil. Earlier in his career he was involved with the Dodge Daytona / Plymouth Superbird that dominated NASCAR racing for a period of time.
It is important to note that a turbocharged version of the 2.4 engine would have higher windage losses and oil heating due to the increased level of normal blow-by in the crankcase. Therefore even more benefit would be found in the use of a proper windage control system.
Dodge 2.4 NA P.T. Cruiser Engine -- balance shafts removed
| | | |
| --- | --- | --- |
| | Oil pan temperature in degrees F | Engine coolant temperature in degrees F |
| 3000 rpm | 197 | 196 |
| 4000 rpm | 203 | 198 |
| 5000 rpm | 208 | 199 |
| 6000 rpm | 216 | 204 |
| 7000 rpm | 220 | 211 |
| 7500 rpm | 231 | 212 |
Dodge 2.4 NA P.T. Cruiser Engine -- balance shafts removed and Ishihara-Johnson standard steel crank scraper and dual windage tray setup with baffles and trap doors installed.
| | | | | |
| --- | --- | --- | --- | --- |
| | Oil pan temperature in degrees F | Engine coolant temperature in degrees F | HP | TQ |
| 3000 rpm | 196 (-1) | 196 (unchanged) | same | same |
| 4000 rpm | 199 (-4) | 196 (-2) | same | +3 ftlb |
| 5000 rpm | 201 (-7) | 197 (-2) | +2 hp | +7 ftlb |
| 6000 rpm | 202 (-14) | 197 (-7) | +3 hp | +8 ftlb |
| 7000 rpm | 207 (-13) | 197 (-10) | +5 hp | +10 ftlb |
| 7500 rpm | 207 (-24) | 201 (-10) | +7 hp | +13 ftlb |
----- Original Message -----
From: William Stox
To: Kevin_Johnson@crank-scrapers.com
Sent: Friday, June 05, 2009 7:01 AM
Subject: Windage System for SRT-4
I felt it appropriate to share my initial results after installing your Windage System for the SRT-4.
Unfortunately, I am not a lab, and it was not the only change made. However, the other changes should have had little difference on performance. I put in a new set of plugs and wires, though there was no indication of a problem with spark, and could not tell any noticeable difference in the car from doing so. I also replaced the 3" Mandrel bent exhaust with a similar 3" Mandrel bent exhaust, which removed the muffler. (This could have gained 5-7 hp). The only other real change made, was to put your windage system into a car that already had the balance shafts removed. We carried it to a 1/8 mile track. The previous trap speeds on the car were 87.45 mph in the 1/8. The new trap speed was 92.95, or about 40-45 hp of increase. Let's just say, I'd have been very happy with half that improvement, especially for the money spent. I'd recommend that system for anyone who wants to make power from their SRT-4!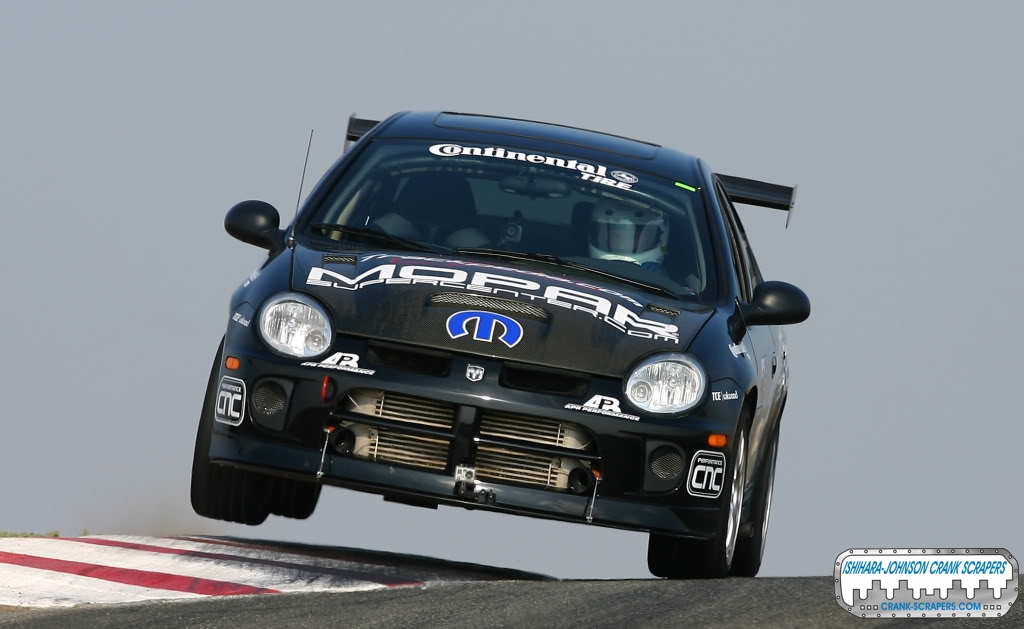 Doug Wind has run the Ishihara-Johnson Teflon bladed crankscraper and windage tray set in the 2010 and 2011 season.
Below: Steve Lockett runs the 2.4 windage tray setup in his 9.7 sec 160 mph Neon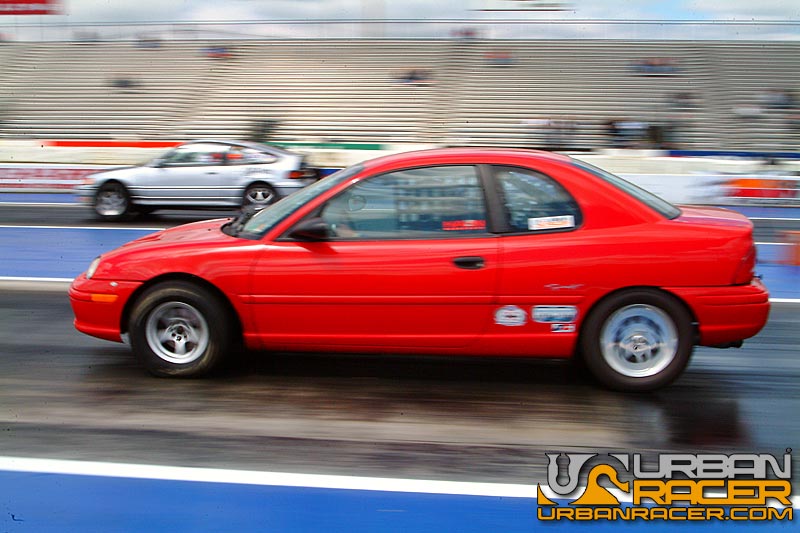 Daniel Scott, owner of a 1996 Dodge Stratus with 206,000 miles on it installed our dual scraper for the 2.4 designed to work with engines with the balance shafts left in place. [Note: the system mentioned later on this page that was dyno tested for the 2.4 is used when the balance shafts are removed.] Daniel removed the pan and saw that an OEM gasket scraper from Dodge was already in place. He removed this and installed our dual scraper which has far more coverage and dual acceleration trap doors:
He wrote and said, "the crank scraper was the best mod for the 2.4 engine. There is a major and noticeable difference in mid range and high rpm. A must for any stratus owner looking to make a lot of power for a nice price; easy installation and a great hand crafted piece."
Again, it is worth noting that this change alone showed a major power difference on an engine with 206,000 miles on it.