Copyright 2002-2019 © All rights are reserved on our product designs.
Modified 4A Windage Tray, 4A crank scrapers (also 7A crank scrapers)
Important note: It has been brought to our attention that there are some engines like very late 4AGZE blocks and 4AFE that have a casting variation that intrudes into the 3rd and 4th bay area but otherwise use a 16V type pan and tray. We can make scrapers to fit this variation with no problem and at no additional cost but you need to specifically request it at the time the order is placed. If you have a bare block this area can be easily ground away.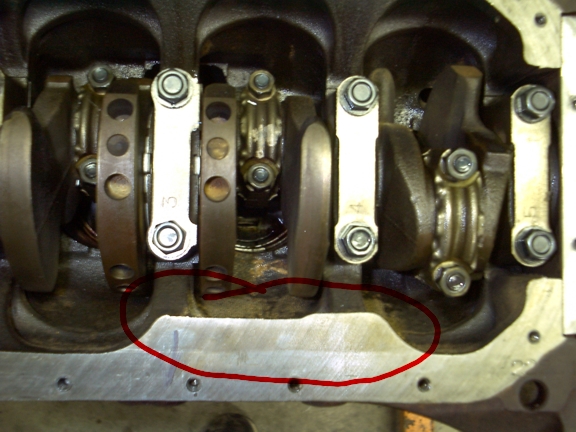 A modified windage tray for a Toyota 4A series engine such as the 4AFE, 4AGE, 4AGZE and so on. If you have the 20 valve which has a different oil pan flange pattern please let us know as we can modify the tray to fit. The pictures below include parts from the scraper kit:
It is a dual tray which means it has two separate layers. There is a $30 core charge (Toyota part number 12122-16011 Plate, oil pan baffle) or customer can send a new or good used core. The inner layer is made from suspended directional screening which has been used for many years in windage trays to capture and dissipate the energy of high speed oil droplets which can cause foaming or bounce back up and be hit again and again. The solid tray underneath has been slotted and drilled to allow scavenged oil to freely drain through. The added slots and holes are not so large, however, so as to allow splashing sump oil to contact the rotating assembly. The dual windage tray is the most advanced system available for this engine and would complement and improve even a dry sump system. The dual windage tray runs $179.95; the modified tray for the 20v runs $229.95.
Pics of 20v tray:
Most recent version of 20v tray:




20V Teflon scraper:
Knife-edged Teflon bladed scraper (for a custom crank) that works in harmony with the tray:
The 4A series windage tray is complemented by the Dual 4A series crank scrapers we also manufacture. This scraper includes a center baffle to help segregate bays 1-2 and 3-4 from each other. This baffle installs under the center main bearing cap bolts: $99.95; Teflon version shown is $130 additional.
This picture shows the new dual scraper and baffle next to the modified windage tray:

There is a similar scraper for use with the 7A -- it is thinner on the oil pan perimeter because of the upper alloy sump used on the 7A. ($99.95 for steel, oil-pan perimeter versions of the 7A; Teflon-bladed version $130 additional.)