TR2-TR4A reinforced dual scraper with optional windage tray and optional pan baffles for either the steel stock pan or alloy aftermarket pans (many variations; please enquire). Includes a 20 gauge shim that can welded to the scraper to bring clearances arbitrarily close.
Stock reinforced dual scraper $169.95 (add $130 for Teflon bladed version)

Below: cross brace in place; the windage tray replaces this piece if chosen

Below: example of a Teflon bladed scraper with tray for an aftermarket crankshaft with dummy mains. Note that the windage tray includes a 1-2, 3-4 cylinder bay segregation baffle for improving cylinder pumping exchange patterns.

Directional screening windage tray $149.95 (additional layers available for aftermarket or stock alloy pans)
Below: example of additional layer

Pan baffle for stock steel tray $69.95
Below: examples of early baffle design (now reinforced with X brace)
Pan baffle for alloy pan $99.95 and up
One example below; please note that most alloy pans have interiors with subtly different contours. Ideally they should be sent to us for fitment.

Modified stock steel pan core (you supply core): 309.95 Includes dual trap doors and secondary oil drain. This should be used in combination with one of our windage trays. Pickup seen in pan is available below for $99.95
Specially modified scraper and windage trays to work with strapped center cap and studs. Also curved extensions added to bottom tray. These work with the modified pan above.
Note: if you use the modification below please let us know for fitment purposes
Here is a suggestion for modifying the TR2-TR4A oil pickup tubes -- click here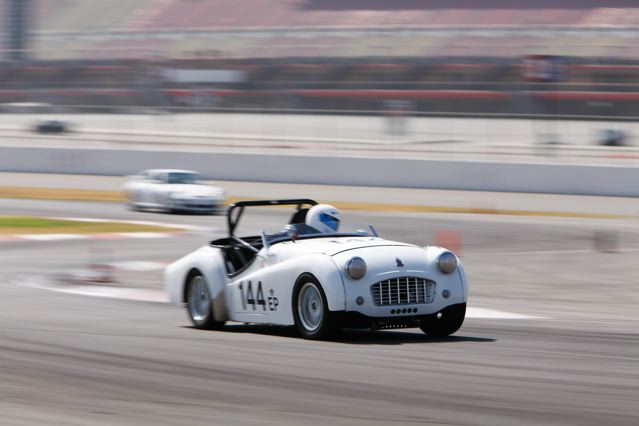 Kas Kastner has written a new book on Triumphs. Kas was head of the US Triumph racing effort and certainly knows his cars!